How to Generate More Leads for your Business with Email Marketing
Despite emerging modern technologies email marketing still remains the most effective tactic to generate more leads for businesses at present. According to research by Experian, a leading global information services company-
"An investment of $1 in email marketing initiatives by marketers can yield them about $44.25 dollars in return."
Projections also predict that,
Looking at the statistics and predictions above, we can say email marketing is not going anywhere soon. Hence, marketers and businesses should invest more of their time and energy on this marketing tactic, to grab the attention of potential clients and create leads.
There is no doubt that email marketing is cheaper and the most accessible strategy. However, there are some best practices that need to be utilized for generating and nurturing new leads. To understand what these practices are, here is what you need to know.
1. Offer high-value and relevant content
Everyone is busy today and no one has the time to read lengthy and irrelevant emails. So, try keeping your email content short and crisp. As you can see in the image below, the conversation is minimized and written to the point.
The email starts with a small greeting and proceeds forward explaining what the sender actually wants to convey to the receiver. Furthermore, the uses minimal text and more graphics to attract readers.
The message is clear and concise, containing the agenda of the email (introduction of the company) with some urgency added to it, telling the customers why they need to use Marvel's services.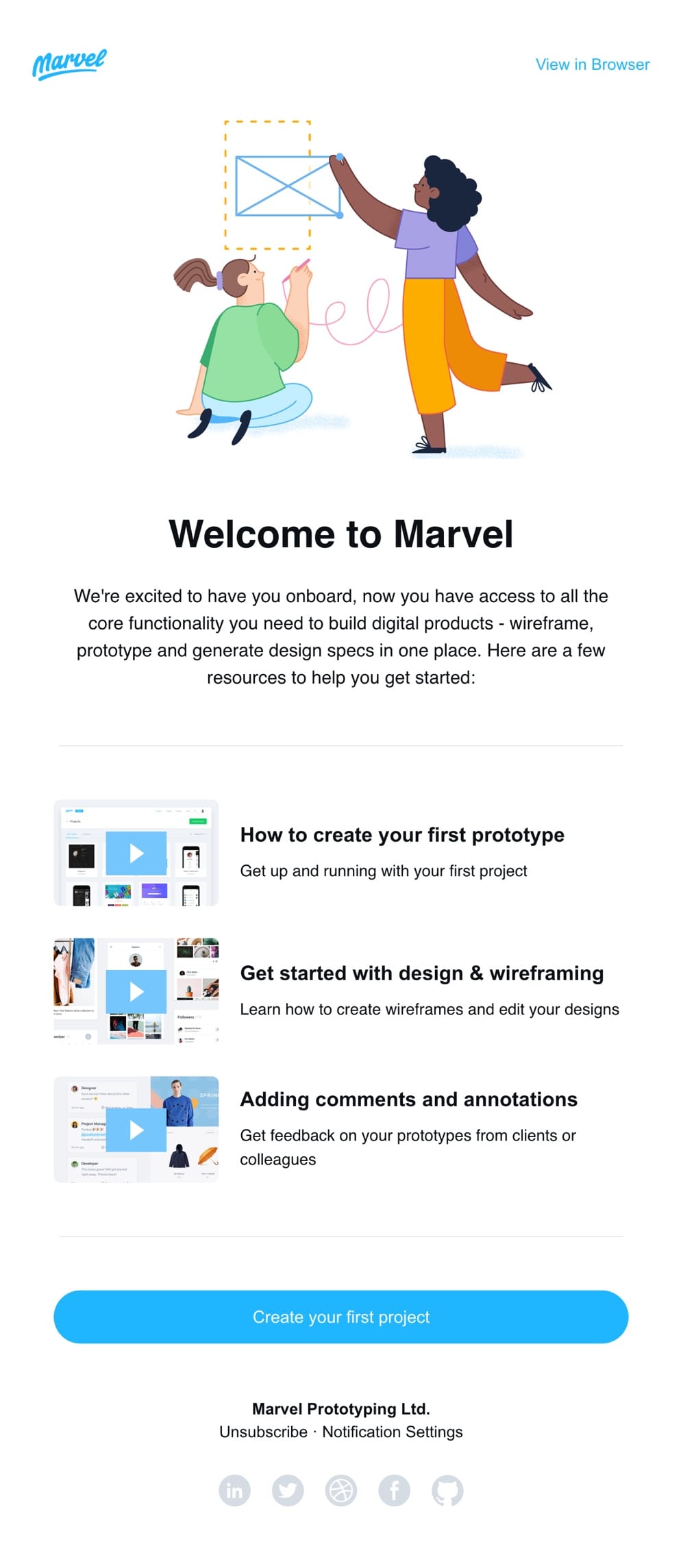 Secondly, use short and concise subject lines, about 30-50 characters, and should contain the agenda of your email with some urgency added to it. This is one of the useful digital marketing trends that marketers should opt.
2. Keep the call-to-action (CTA) clear
Another major player for any email marketing campaign is "Call-to-Action" aka CTA. Call-to-action means adding a click-button or hyperlinked text to your emails that can direct your customers to a relevant page on your website.
Call-to-action buttons are meant to make customers act by grabbing their attention and encouraging them. These buttons built to trigger the customers' reward system or "Feel Good" hormones, which make it impossible for them to ignore the message in front of their eyes.
Take for instance this email newsletter from Fossil. The message is short, informing the customer what their product does, how it helps them, and most importantly, how to buy them. The CTAs "For Him" and "For Her" is placed correctly over the colourful image of the watches. So, customers know how to act to get to their desired destination, without having to look for the products all over the website.
3. Set up triggered emails
Triggered emails are also known as behavioural marketing automation because they are activated by specific actions taken by website visitors. Triggered emails help marketers to build trust with customers.
According to a study, that triggered emails receive 70.5% more opens than other types of emails and can increase a company's revenue by 34%. Total Wine & More 's personalized birthday email below is eye-catching. Since, it is an email that wishes the customer a "Happy Birthday" most probably triggered by the registration process when the customer logged in. The discount or coupon offered in the email urges the subscriber to avail the same on their services and products for any future purchases.
4. Avoid Using 'No-Reply' in the Sender's Email Address
If you want your email marketing strategy to work, the key is to never use "No-Reply" email addresses. Such email addresses are never taken seriously by individuals and it fails to build trust and relation with existing as well as potential clients. By sending a "No-Answer" email readers are kept from reacting and instead make them quit any further messages.
Marketers should rather use an email address that audiences can reply to as well as set up a procedure to manage the replies. Businesses might just uncover some valuable information in the process. 
Really Good Emails does a great job at personalizing the content of their email with a giant 80s style banner with their name on it. They also managed to showcase their brand personality by injecting humour in the body of the email. They did all of this while avoiding the do not reply email address.
Instead, they opted for "hello@reallygoodemails.com", which is really great because it is the complete opposite of "no-reply". By using the word "hello," they're inviting responses and engagement from their audience. The only way they could've done more to achieve this is if they used "please-reply@reallygoodemails.com"!
5. Utilize Auto-Responders for Opt-Ins
For most types of businesses, autoresponders can be an effective marketing tool that can nurture your leads and make more sales. These are a sequence of emails that are automatically sent to a specific segment of people on the email list, triggered by a specific event like joining your list, browsing behaviour, shopping cart abandonment, downloading a PDF, or buying a product.
The autoresponder series helps you to successfully engage your email list, build relationships, and turn leads into customers and is arguably an online marketer's most powerful tool for making sales. It also allows you to automate your email marketing and sales, so you can focus on the important aspects of your business.
The content of these email autoresponder series is created in advance and set up to send at the appropriate time with the help of your email marketing software.
Using a survey or opinion poll like in the case of Kate Spade Saturday's newsletter seen above, can give recipients an opportunity to engage with your brand or service and can provide valuable insights for future content or marketing campaigns.
6. Try A/B email testing for each campaign
This is also known as split testing and a way of working out which of two campaign options is the most effective in terms of encouraging opens or clicks.
It's always advisable for companies to test their campaigns through A/B testing and analyze the results. The results can assist companies to understand the behaviour of their targets and hence act accordingly.
You can test the campaigns by incorporating minor changes into your emails like colours, designs, graphics, and call to actions to name a few, keeping the agenda intact to target the audience. The A/B testing method used by Wandr, as seen below, is a good example.
7. Make your emails sharable.
Shareable emails are a good marketing strategy. The is due to the fact that people still like forwarding their emails to their friends, family, and colleagues. Hence, by adding shareable links or buttons on their email, businesses can make it easy for customers.
The email above by Seamless is a good example of a shareable email. If you look closely at the image, you will notice that the email prompts its users to share the discount code with everyone. Hence, they are ensuring that not only the customers, but also their friends and family, visit the website.
There are many ways to make your emails shareable. Some of these ways are as follows-
You can ask your customers to forward the email in your copy.
You can add a CTA button that automatically formats an email for them.
You can embed pre-formatted tweets in your email for sharing.
You can add a signup link so that when the email is forwarded, people can sign up easily.
You can add social sharing buttons so people can share your email on their social media accounts.
8. Use Catchy and Interesting Email Subject Lines
47% of email recipients decide to open emails based on the subject line.
69% of email recipients report email as spam based solely on the subject line.
Catchy and interesting email subject lines can immediately grab your leads' interest and make it very difficult for them to click the "delete" button. Any boring email subject line can be upgraded by changing the verbs and adjectives.
Conclusion
There are many ways by which email marketing can generate leads for your business. The methods discussed above are some of the best. if you have not tried them as yet, its time you make a start.
If you have any queries regarding email marketing, Marak Technologies can help you out. Just give us a buzz or email us. We will get back to you.
---
---